Moringa leaves powder 50g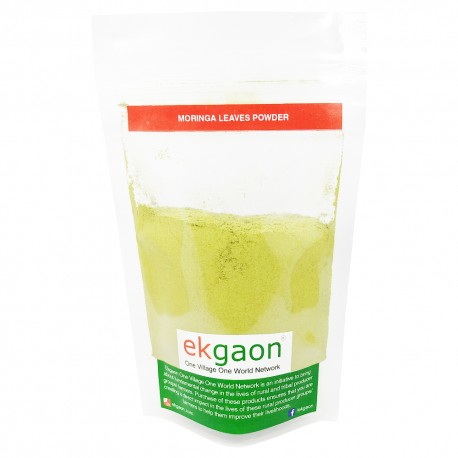 View larger
33 Item Items
Warning: Last items in stock!
Availability date:
Moringa leaves powder:
Product Name : Moringa leaves powder
Crop Variety : Jungle Herb
Geo Tag (Place of Origin): Madurai,TN
Moringa oleifera tree has been considered as one of the most nutritious plants ever discovered with most of its benefits concentrated in its small green leaves. As is evident from its name, Moringa powder is made from the freshly harvested leaves of the moringa oleifera tree. Fresh moringa leaf powder is deep green in color and has a rich nutty smell.
The most amazing part is that once packed, this powder remains fresh for several months, retaining its nutritional value of vitamins, minerals, antioxidants, chlorophyll and complete amino-acids.The reason why dried leaf powder is preferred over fresh leaves is that it is more nutritious and in some cases, contains even ten times more specific nutrients in comparison to fresh moringa leaves
Some of the numerous health benefits of moringa powder are as follows:-
1. Boosts Stamina: Being a complete package of vitamins, minerals, antioxidants and phytonutrients, this supplement is great for boosting your energy and stamina as well as increasing concentration. Students can use it to improve concentration whereas athletes can benefit in the form of increased endurance during exercise. Moreover, it aids in weight loss because it provides enough energy and vitality to reduce the need for eating to increase energy level.
2. Controls Diabetes: It is extremely beneficial for diabetic patients. A drink made from moringa powder can be consumed for keeping the level of sugar normal. Thus, it is a cost effective home remedy for diabetic patients
3. Anti-Oxidant: Moringa powder is rich in catechin polyphenols, particularly epigallocatechin gallate (EGCG) which is a powerful antioxidant for inhibiting the growth of cancer cells. It also helps delay ageing process in body.
4. Lowers Cholesterol: It is also effective in lowering LDL cholesterol levels (4) and inhibiting the abnormal formation of blood clots.
5. Controls Blood Pressure: Another benefit of moringa powder is its soothing ability which enables it to lower the blood pressure and promotes good sleep. It is a natural remedy for insomnia as it possesses certain properties that can treat sleeping disorders.
6. Detoxifies: It is often used to purify water due to its detoxifying effects. Being a coagulant agent, it can attach itself to hazardous bacteria and other agents. In a similar manner, when consumed, it helps in removing toxins from the body. Boosts immunity.
7. Treats Depression: Moringa leaf powder is effective in treating depression and anxiety as well. You can make it a part of your diet and see the results within a couple of days.
8. Organic Nature: As it is 100 percent organic with no side effects, it is safe for people of all ages. In Africa, it is often given to babies to overcome malnourishment.
9. Good for Pregnant Women and Lactating Mothers: It is particularly beneficial for pregnant and breast-feeding women who are at the risk of suffering from nutritional deficiencies. Around 6 spoons of moringa powder satisfy nearly all of a woman's daily iron and calcium needs during pregnancy and breast-feeding. (Do keep your doctor in loop if you use this everyday)
10. Treats Minor Infections: Due to its medicinal value, this supplement is used for the treatment of minor bacterial and fungal infection, lowering blood sugar levels, anemia and weight loss.

How to Make It:
Put half spoon of tea powder in 1 mug of boiled water and let it simmer. Strain after 4 to 5 mins. (You may vary the quantity of tea as per your taste). Tastes best without sugar. If needed add honey or dates palm sugar.
Caution: No Known side effects but should be taken in moderation. If you take it regularly in favor of some ailment, you medication need to be moderated by your healthcare provider.
Do Try Our range of :
Various flavors in Darjeeling green tea
Natural sweeteners – Dates Palm Sugar, Dates Palm crystals and Dates Palm Jaggery
Millets (High on Fibre, Gluten Free) – Kodo, Foxtail, Jowar, Bajra, Ragi
Disclaimer: This "HOW to USE" guide is for suggestive purposes only and should not be used as a replacement for professional diagnostic and treatments. Remember to always consult your healthcare provider before making any health-related decisions or for counselling, guidance and treatment about a specific medical condition.
No customer reviews for the moment.