Tea Combo ( Dry Ginger Tea 50g, Lotus Tea 50g, Avaram Sena Tea 50g and Palm Sugar 500 g)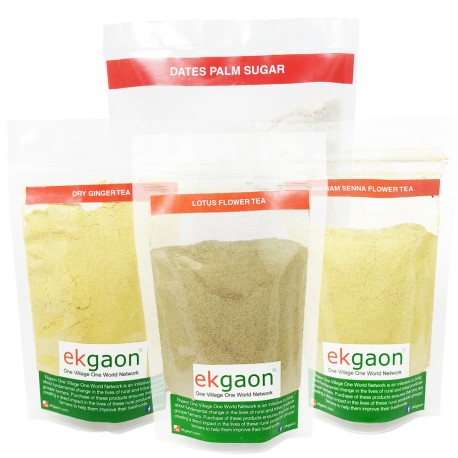 View larger
99 Item Items
Warning: Last items in stock!
Availability date:
Product Name : Avaram Senna Flower Tea
Crop Variety : Jungle Herb
Geo Tag (Place of Origin): Madurai,TN
Avaram poo tea is full of antioxidants and tastes really good. It is also one of the best substitutes for caffeinated drinks. The main problem with caffeinated drinks is that they are very dehydrating, this avarampoo tea is just the opposite, it hydrates the body very nicely. This Senna flower tea contains Dried ginger, Black pepper, Cardamom, Cinnamon and Long pepper.
Product Name : Lotus Flower Tea
Crop Variety : Jungle Herb
Geo Tag (Place of Origin): Madurai,TN

This Lotus flower tea content is Lotus flower, dried ginger and cardamom. There are many lotus flower tea benefits and more and more people are finding out about them every day. The first benefit that will be noticed is that the lotus flower tea causes people to feel calm and stress free. This can help people to relax and make it through their day much easier. Drinking lotus tea has many benefits for both men and women.
Product Name : Dry Ginger Coffee Powder
Crop Variety : Natural
Geo Tag (Place of Origin): Madurai,TN

Dry ginger coffee powder is a spicy and sweet traditional South Indian beverage. A very good remedy for cold, its rich aroma opens nasal blocks and provides relief from throat infections and fever too.The main ingredient is Chukku or Dry Ginger. Ginger is used in almost all the Ayurvedic medicines due to its digestive and carminative properties.
Product Name : Dates Palm Sugar 250g
Crop Variety : Plam Tree
Geo Tag (Place of Origin): kanyakumari, TN
Brief Description:
Palm sugar is a nutrient-rich, low-glycemic crystalline sweetener that looks, tastes, dissolves and melts almost exactly like sugar, but it's completely natural and unrefined. It's acquired from the flowers growing high on palmera tree, which are opened to collect their liquid flower nectar. This nectar is then air-dried to form a crystalline sugar that's naturally brown in colour and naturally rich in a number of key vitamins, minerals and phytonutrients, including potassium, zinc, iron, and vitamins B1, B2, B3 and B6.

General Benefits:
Palm Sugar is nutritionally richest in minerals like Calcium, Iron and is Phosphorous which are essential for the growth of strong bones and teeth in growing children.
palmyra palm sugar is the only known plant generated natural source of Vitamin B12 and C present in the Palm Sugar makes it the richest natural sweetener available in powder form.
It supports growth of young children, decrease pancreas heat, strengthens heart, bone and teeth; help prevent diabetes, nerve pains and respiratory ailments.
No customer reviews for the moment.