Multani Mitti (100g)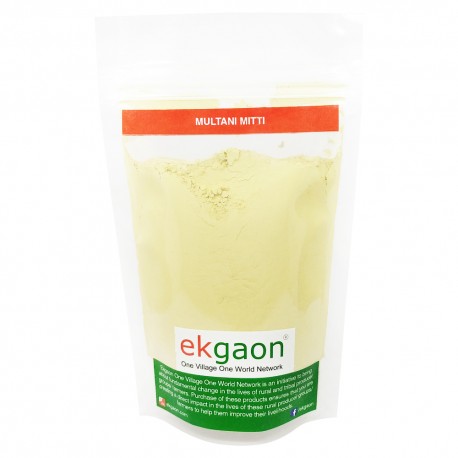 View larger
39 Item Items
Warning: Last items in stock!
Availability date:
Multani Mitti:
Product Name : Multani Mitti
Crop Variety : Jungle Herb
Geo Tag (Place of Origin): Nilgris, TN
Also known as fuller's earth, Multani mitti has been used to get rid of skin issues and achieve radiant, blemish-free skin since ages in India. It is one of those age-old tips that has been handed over generations. Multani mitti is a great agent to clean, exfoliate and nourish your skin. It has active elements that effectively absorb oil, dirt, sweat and impurities, leaving the skin clean, soft and supple. One of the best things about the ingredient is that you can use it with a host of other ingredients to suit your skin type and achieve desirable results.
Benefits of Multani Mitti:
Fights acne and pimples, Removes excess sebum and oil, Deep cleanses skin removing dirt, sweat and impurities

Evens out skin tone and brightens complexion, Treats tanning and pigmentation

Effective in treating sunburn, skin rashes and infections (multani mitti is an effective cooling agent)

Has antiseptic properties, Can be used in cold compresses to treat skin inflammation and insect bites

Facilitates blood circulation, leading to radiant, glowing skin
How to Use:
For oily skin: Mix equal quantities of orange peel powder and multani mitti, blend the two together with the help of rosewater, apply on your face, let it dry and wash off. Use the pack twice a month to help keep excess oil off your face and acne/pimple breakouts in control.
For Dark Circles: To get rid of dark circles, simply take half a potato and grate it. Mix it with lemon juice, one teaspoon fresh cream and Multani Mitti. Use this paste on your eyes and leave for twenty minutes. Wash off and see a remarkable difference in your dark circles.
Scrub & Exfoliate! If you want to exfoliate your skin, there's nothing better than teaming orange peel, sandalwood powder and Multani Mitti. You can even add gram flour and basil to the paste and use it for deep cleaning your skin.
Deep Exfoliating Face Mask
This good-for-all-skin-types face mask helps in removing dead skin and dirt off your face. All you need is one tablespoon of lime juice, brown sugar and sabudana and one teaspoon of Multani Mitti.
Mix sabudana and lime juice and add in a pan, and let it thicken over a low flame. Keep stirring, then take off the gas and let it cool. Now, add sugar and Multani Mitti, mix well. Massage on your face avoiding eye area and leave it for 10 minutes. Take a soft towel or washcloth, dampen it in tepid water and clean your face. Finish by washing your face with cool water and applying a moisturizer. You can even use this as a body scrub.
Caution: Not good for dry or overly sensitive skin. It may dehydrate your skin due to its high absorbing power. However, you can add almond and milk to reduce any harsh effect on dry skin.
No customer reviews for the moment.