Hair Care Combo Pack of 3 (Amla Powder 100g, Reetha Powder 100g, Shikakai Powder 100gm )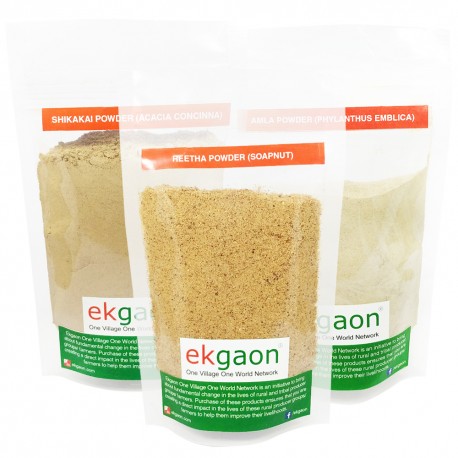 View larger
41 Item Items
Warning: Last items in stock!
Availability date:
Hair care
Natural herbs are best to use
Amla Powder:
Product Name : Amla Powder (Phylanthus emblica)
Crop Variety : Jungle Herb
Geo Tag (Place of Origin): Nllgiris, TN
Amla powder is made of Amla fruit and the berries can be dried and powdered. Amla contains Vitamin C in high level. Tiny Amla quantity is equivalent in vitamin C content to two oranges. It is good for eyes, strengthens the hair, purifies the blood; strengthens the heart, cures infections and ulcers. It also helps to remove kidney and bladder stones.
How to use: Amla powder mask can also add texture and volume to your hair.
Mix ½ cup of amla powder in ¼ cup of warm water to form a thin paste. Massage the amla powder paste into your scalp and hair roots using circular motions. Apply some dry amla powder to your hair ends afterwards. Pile your hair on top of your head and slip on a plastic shower cap. Leave for 15 to 30 minutes. Rinse the amla powder from your hair until the water runs clear. Shampoo and style your hair as usual.
Caution: Rinse the amla powder immediately if your skin begins to burn or show signs of irritation. This could be the sign of an allergic reaction. If burning or redness continues, seek medical attention immediately
Reetha Powder:
Reetha is also called soapnut. Using Reetha as a hair Shampoo is economical and giving gentler effects to your hair. The Reetha liquid makes your hair shinier and softer. It is anti-bacterial and anti-fungal in nature and keeps your scalp free from dandruff and prevents hair loss. It shows no side-effects in spite of using it daily. It makes your hair stronger, reduces the impact of hair fall. It is used as a natural conditioner and It also helps to prevent dandruff.
How to use: Take Reetha powder and Shikakai powder and mix in water. Massage your scalp with this mixture. Leave it for few minutes followed by washing it off. It provides your hair a better texture and suitable shining. .
Caution: no known allergies, but if you get allergy stop use.
Shikakai Powder:
Shikakai can be used as a hair wash, herbal shampoo or even hair pack to get rid of various hair related problems. Shikkakai usually doesn't lather much until it is mixed with reetha but still shikakai effectively cleanses the scalp and hair. It can be considered as a mild hair cleanser which is good for dry scalp as it doesn't take away too much of the natural oils from the scalp.
How to use:
Shikakai as Shampoo: Soak Shikakai, Reetha (soapnut) and amla powder in water overnight and then boil that water. Let it cool. Use the water as shampoo to clean the scalp. It may not lather like the store bought shampoos but is mild and very natural.
Shikakai as Hair Pack: Hair packs with shikakai are extremely beneficial for the treatment of dandruff and other scalp related problems as we mentioned in the benefits of shikakai. For the hair pack, you will need shikakai powder, neem powder, fenugreek powder and amla powder. Boil all of them in a cup of water. Boil them for 15 minutes and then let it cool. Use that water to massage the scalp and hair. Keep it for 30 minutes and rinse off with plain water.
Caution: no known allergies, but if you get allergy stop use.
Do Try Our range of:
Skin Care products – Neem powder, Tulsi powder, Aloe-vera Powder, Multani Mitti, Haldi Powder
Combo 1 and 2 offer price – 399.00 only
Disclaimer: This "HOW to USE" guide is for suggestive purposes only and should not be used as a replacement for professional diagnostic and treatments. Remember to always consult your healthcare provider before making any health-related decisions or for counselling, guidance and treatment about a specific medical condition.
No customer reviews for the moment.