Weight loss Combo (Lotus flower Tea 50g , Kodo Millet 500g, Dates Palm Sugar 250g)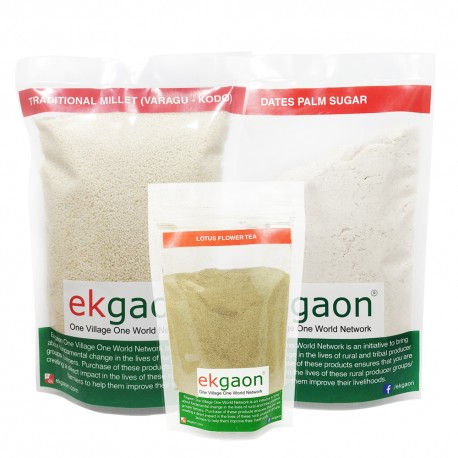 View larger
48 Item Items
Warning: Last items in stock!
Availability date:
Weight Loss
Lotus Flower Tea:
Lotus plant offers numerous benefits from its flower to its stem. The lotus leaf tea is used for detoxing the system by purifying & cleansing the body. The intake of tea of lotus leaves & flowers help in controlling the deposition of fats & toxins in the liver and thus help in the problem of a fatty liver. Lotus flower tea is relaxing & soothing too.
How to take: Put half spoon of tea in boiled water and let it simmer. Strain after 4 to 5 mins. (You may vary the quantity of tea as per your taste). Tastes best without sugar. If needed add honey or palm sugar.
Caution: Lotus might lower blood sugar levels. There is concern that taking lotus as a medicine might interfere with blood sugar control during and after surgical procedures.

Kodo Millet:
Kodo is a gluten free and a vegan cereal. In-spite of cultivating Kodo millet for 1000's of years this millet is slowly dying out. Reason is urban population is not fully aware of its benefits. Kodo is rich in protein, fiber and minerals and vitamins. Kodo millet has around 11% protein. It helps keep diabetes under check and Controls Obesity. Mantra is "High on fibre low on Carbs"
How to Make : Soak it in water to 10-15 minutes and wash twice or thrice. Then you may cook it as wheat porridge, upma or just cook as rice!
Caution: No Known side effects.

Dates Palm Sugar:
Palm sugar is made from sap from Dates Palm tree. Unlike the white sugar, sweeteners and sometimes stevia, palm sugar is not refined thus retains all the nutrients and vitamins. Palm (Dates) Sugar is an excellent source of minerals and vitamins such as vitamin B1, vit. B2, vit. B3 vit. B6, vit. B12, zinc, potassium, iron and amino acids. It also comprises of fructose, sucrose and glucose. Although the palm sugar is sugary in taste yet it has a low GI (Glycemic Index) of less than 41 as against sugar which has 65. Due to the low Glycemic Index of palm sugar, it is a healthy substitute for artificial sugar thus helps to prevent the onset of diabetes.
How to take: Replace your white sugar with Dates Palm sugar.
Caution: Dates Palm sugar consumption has been reported not to cause a sudden spike in the blood sugar levels. However, diabetes patients should consider consuming palm sugar at a very low level.

Do Try Our range of:
Healthy seeds – Watermelon seeds, Pumpkin seeds, Sunflower Seeds, Sesame seeds
Combo offer available
Antioxidant teas – Lotus flower Tea, Moringa leaf Tea, Avaram Senna Tea & Darjeeling green tea (Green tea is available in many flavors)
Natural sweeteners – Dates Palm crystals and Dates Palm Jaggery
Disclaimer: This "HOW to USE" guide is for suggestive purposes only and should not be used as a replacement for professional diagnostic and treatments. Remember to always consult your healthcare provider before making any health-related decisions or for counselling, guidance and treatment about a specific medical condition.
No customer reviews for the moment.