Skin Care Combo 1 (Multani Mitti 100g, Aloe Vera Powder 100g, Tulasi Powder 50g,Neem Powder 100g)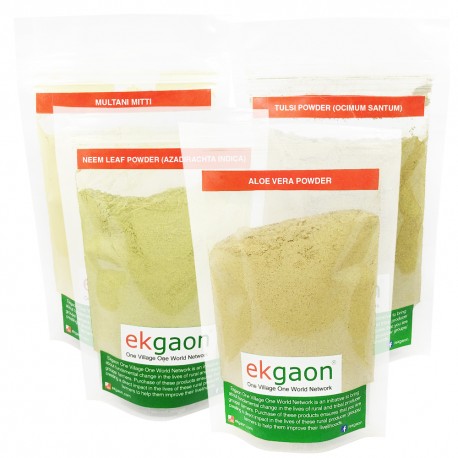 View larger
45 Item Items
Warning: Last items in stock!
Availability date:
Skin Care Combo 1
Natural herbs are best to use
Multani Mitti:
Product Name : Senna – Chirauta Powder (Cassia obtusa)
Crop Variety : Jungle Herb
Geo Tag (Place of Origin): Nilgris, TN
Also known as fuller's earth, Multani mitti has been used to get rid of skin issues and achieve radiant, blemish-free skin since ages in India. It is one of those age-old tips that has been handed over generations. Multani mitti is a great agent to clean, exfoliate and nourish your skin. It has active elements that effectively absorb oil, dirt, sweat and impurities, leaving the skin clean, soft and supple. One of the best things about the ingredient is that you can use it with a host of other ingredients to suit your skin type and achieve desirable results.
Benefits of Multani Mitti:
Fights acne and pimples, Removes excess sebum and oil, Deep cleanses skin removing dirt, sweat and impurities

Evens out skin tone and brightens complexion, Treats tanning and pigmentation

Effective in treating sunburn, skin rashes and infections (multani mitti is an effective cooling agent)

Has antiseptic properties, Can be used in cold compresses to treat skin inflammation and insect bites

Facilitates blood circulation, leading to radiant, glowing skin
How to Use:
For oily skin: Mix equal quantities of orange peel powder and multani mitti, blend the two together with the help of rosewater, apply on your face, let it dry and wash off. Use the pack twice a month to help keep excess oil off your face and acne/pimple breakouts in control.

For Dark Circles: To get rid of dark circles, simply take half a potato and grate it. Mix it with lemon juice, one teaspoon fresh cream and Multani Mitti. Use this paste on your eyes and leave for twenty minutes. Wash off and see a remarkable difference in your dark circles.

Scrub & Exfoliate! If you want to exfoliate your skin, there's nothing better than teaming orange peel, sandalwood powder and Multani Mitti. You can even add gram flour and basil to the paste and use it for deep cleaning your skin.
Deep Exfoliating Face Mask
This good-for-all-skin-types face mask helps in removing dead skin and dirt off your face. All you need is one tablespoon of lime juice, brown sugar and sabudana and one teaspoon of Multani Mitti.
Mix sabudana and lime juice and add in a pan, and let it thicken over a low flame. Keep stirring, then take off the gas and let it cool. Now, add sugar and Multani Mitti, mix well. Massage on your face avoiding eye area and leave it for 10 minutes. Take a soft towel or washcloth, dampen it in tepid water and clean your face. Finish by washing your face with cool water and applying a moisturizer. You can even use this as a body scrub.


Caution: Not good for dry or overly sensitive skin. It may dehydrate your skin due to its high absorbing power. However, you can add almond and milk to reduce any harsh effect on dry skin.

Aloe vera Powder:
Product Name : Aloe Vera Powder
Crop Variety : Jungle Herb
Geo Tag (Place of Origin): Pollachi, TN
Aloe Vera, also known as the 'plant of immortality' by the ancient Egyptians, was used for its healing properties since time immemorial. Aloevera Contains vitamin C, B1, B2, B3, B4, and B12. Besides, Aloe vera also contains protein, calcium, magnesium, zinc, vitamins A and E and is naturally rich.
It reduces blood sugar levels in diabetics by as much as 48%.

It is used for cosmetic and medicinal purpose.
How to use:
For normal skin - Take one table spoon of Aloe vera powder and mix it with one table spoon of gram flour (besan), one table spoon of orange peel powder and some curd. Apply this pack on your face and neck, avoiding the area around the eyes. Wash it with water after 30 minutes and pat dry the area with a towel.
For oily skin - Take aloe vera powder then add a few drops of honey to this paste and apply it on your face. Rinse it off with cold water after 15 minutes.

Caution: Discontinue if you get irritation on skin.
Tulsi Powder:
Tulsi is an herbal remedy for a lot of common ailments. Tulsi helps balance different processes in the body and is quite helpful for adapting to stress. Also, Tulsi helps in building up stamina and has powerful purifying properties. When eaten raw, it purifies the blood giving the skin a beautiful glow, and prevents the appearance of acne and blemishes.

How to Use:
As Tea:
Take ⅓ of a teaspoon of Tulsi powder in a mug, and pour 1 cup boiled water onto it. Cover the water in mug and let it steep for 10 minutes. Then, strain it and add honey if desired and take as a refreshing drink.
As face packs:
1. For Skin Brightening
Tulsi can even out skin tone. Homemade face pack made from tulsi can leave an instant glow, as it cleans out open pores, tightens skin and repairs epidermal damage. Mix grounded tulsi powder with enough milk to make a thick paste. Lactic acid from milk adds to the skin lightning effect. Apply this paste on face and leave it on for 20 minutes before scrubbing it off. Regular use for a month or two will start showing distinctive, definitive result.
2. For Acne Free Skin
Tulsi possesses antiseptic and antibacterial property. Mix tulsi powder with fuller's earth and blend it with 1tsp rose water. Multani mitti or fuller's earth will help soak up excess oil, shrink open pores and remove dirt and germs set deep in pores. Thus, giving you clear, clean skin.
Apply this face pack for pimples thrice a week for noticeable difference. Include lots of green leafy vegetables in your diet; consume 3 portions of fruits, and exercise each day for long-lasting results.
3. For Fading Blemishes & Pimple Marks
Mix tulsi powder with orange peel powder and see the face pack work its magic. You can alternatively also use tulsi and sandalwood powder, blend it with a tea-spoon of milk and leave it in for 5-10 minutes every day on face to reduce blemishes and acne marks. Apart from this you can chew 5 leaves of tulsi daily to purify blood for clearer skin.
4. For Toning Skin
Make your own natural toner at home, sans the alcoholic content, allergens and preservatives. To boiling water add some tulsi powder and let it cool. Strain and add this concoction to rose water in equal proportion. Complement it with few drops of lemon juice; store in a dark-coloured glass bottle. Apply daily for toning skin, however you will have to make a fresh batch every 5th day.
5. To Hydrate Skin
If your skin is getting all flaky, with dry and dead cells lining your epidermis, try this tulsi face pack to rescue your facial beauty. Mix tulsi powder with a teaspoon of yoghurt and make a thick paste. Apply evenly all over your face and neck and leave it on for 30 minutes. Once dried, wash off with lukewarm water, follow up with a light moisturizer for long-lasting effect.
6. To Combat Inflammations & Skin Irritation
Take powdered neem and tulsi in equal proportions, to it add 2 cloves and grind to a coarse mixture. Mix to form a thick paste. Apply it evenly all over the face and leave it on for 30minutes to dry and relax in the meantime. Tulsi and neem both have anti-bacterial properties and are known to soothe senses.
7. To Smoothen Skin
Anti-inflammatory and antiseptic, tulsi comes with myriad of benefits. It can clear our scars, treat acne, cure rashes and soothe irritated skin with its antifungal and antibacterial properties. For a clear smooth skin, mix tulsi and neem powder in equal proportions and add 2tsp honey. Leave it on to dry completely, now with a soaked cloth rag pull the mask off to reveal smooth, glowing skin beneath.

Natural remedies have lured their way back for one reason alone – they don't have any side-effects. So use them with confidence.

Caution: Stop using if you get irritation on skin.

Neem Powder:
The leaves, flowers, fruit, seeds, gum, oil and bark all have health benefits. The powder is made by drying and grinding neem leaves or a blend of leaves, flowers, seeds, fruit and bark.
There are many benefits of Neem:
Supports healthy skin while soothing and lubricating it.

Bolsters immune system

Supports healthy sugar levels in body

Encourages fat and water metabolism
How to use
The following neem face packs benefits for all types of skin. Know what face pack you can try for your type of skin for a clear glowing skin.
1. Neem acne and blemish clearing face pack:
Take about 2 teaspoons of neem powder. To this, add 2 teaspoons of pure rose water and mix well. Then add 1 teaspoon of lemon juice and slowly mix to obtain a smooth paste. Lemon juice is known to lighten skin and reduce blemish marks on the skin. It also contains citric acid which is quite effective for treating acne and pimples.
Rose water also has antibacterial and antiseptic properties which eventually cure acne.
Apply this paste all over your face and gently scrub in circular movements. Keep for 15 minutes and rinse off with cool water. Use this face pack regularly once a day, to reduce the appearance of acne and reveal blemish free face.
2. Neem face pack for clear skin:
In a bowl, take 2 teaspoons of dried neem powder. In this, add 1 teaspoon of gram's flour (besan). It revives dull skin, reduces acne and pimples, adds glow to the face and acts as one of the best cleansing agents.
Finally add a teaspoon of yoghurt and mix well to form a smooth paste. Apply this pack all over the face and keep for 20 minutes.
After the pack dries off, rinse with cool water. Repeat this procedure at least twice a week for clear and smooth skin.
3. Neem face mask for glowing skin:
Tulsi is known to reduce the appearance of dark spots and blemishes, reduce acne and makes skin health and glowing.
Add Neem powder, Tulsi powder and a teaspoon of honey and mix to form a paste. People with oily skin can add a teaspoon of sandalwood powder or multani mitti, which helps to soak the excess oil on the face.
Apply this neem pack for face all over and keep for 10-15 minutes and scrub gently in circular motions. Rinse off with cool water after the pack dries.
4. Neem face pack for oily skin:
Take 2 teaspoons of the neem powder and add a teaspoon of yoghurt to it. We know that yogurt softens and moisturises the skin. It is also known for its bleaching and oil controlling properties. It absorbs the excess sebum produced and reduces the skin blemishes, making it ideal for oily skin beauties.
Add 1-2 teaspoons of pure rose water and mix well to form a paste. Apply and keep for 15 minutes. Rinse off with cool water after the pack dries.
5. Neem face pack for dry skin:
Take one spoon neem powder and add a teaspoon of whipped cream to it. It adds glow to dry and dull skin and helps to hydrate and moisturise the skin. Finally add half a teaspoon of turmeric powder and mix well. Turmeric is known for its antibacterial and antifungal properties. It protects the skin from many skin infections and also adds glow to the face.
Apply the face pack and keep it on for 10 minutes. Rinse off with cool water and follow up with a cream based moisturiser to hydrate the skin.
Do Try Our range of:
Hair Care products – Amla Powder, Shikakai Powder and Reetha Powder
Combo offer price – 399.00 only
Disclaimer: This "HOW to USE" guide is for suggestive purposes only and should not be used as a replacement for professional diagnostic and treatments. Remember to always consult your healthcare provider before making any health-related decisions or for counselling, guidance and treatment about a specific medical condition.
No customer reviews for the moment.